2

Products and Service Offerings
Besides nightly hotel accommodation, Quaaout Lodge has multiple areas of services they focus on (also see Promotion).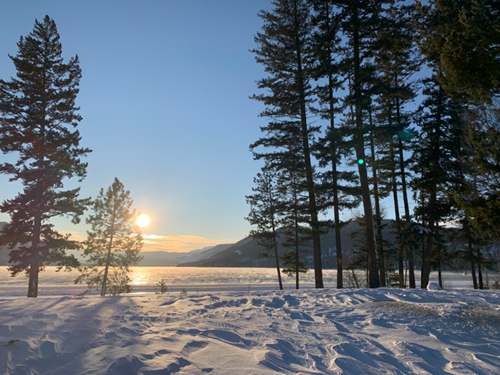 Weddings keep the lodge very busy, with all Saturdays for the current year already fully booked as of January, and they are already taking reservations for the next year. Clients enjoy the fact that everything is in one place. There are many customizations and choices for the ceremony location and menus available, with the scenic location on the lake being a big draw. The lodge offers complimentary menu tastings and encourages wedding guests to book a two-night stay for the opportunity to relax, while the bride and groom have two nights' accommodation already included in their package. Some couples even helicopter in!
Food offered at Quaaout Lodge is influenced by the Indigenous culture of the surroundings (e.g., bison burger). Prime Rib Friday is very popular, and guest chefs such as Ned Bell, a well-known Canadian culinary talent, have cooked at Quaaout Lodge. Wine tastings with featured wineries of the region complement the menu. A taste series runs through the winter, and the lodge offers Valentine's Day specials (e.g., five-course meal and night for $199). A fixed-price, buffet-style Sunday brunch attracts customers from Kamloops and Salmon Arm, and there are special brunches for Mother's Day, Valentine's Day, and more.
Cultural services are accessible for every guest, including wedding guests. There are daily cultural activities they can sign up for, following the schedule posted on the website. For example, horticulture tours are offered to introduce visitors to foraging by seeking out wild potatoes, wild onions, garlic, and huckleberries in the surrounding landscape. A representative from the culture department can be found in the lobby to work with customers' requests. A traditional winter home, called a kekuli, is found on the property as well as a sweat lodge that has been rebuilt and is used for weddings. This is truly traditional to the Secwépemc culture, making it a unique experience.
Watch Video Clip 1 – Guest Experience (Transcript Available) (CC BY-NC-ND 4.0):
Members of the local band community can use the lodge (e.g., for swims) since there is no other pool in Chase. Overall, the lodge tries to share with guests the region, its history, and its natural offerings, rather than just the building. Other popular events include corporate retreats, Christmas parties, New Year's celebrations, strategic planning meetings—especially at the start of the year—and birthday parties. Locals come for spa services, though more often for the food. The surroundings offer many opportunities for hiking, fishing, biking, snowshoeing, and watching the sockeye salmon run in nearby Tsútswecw Provincial Park.