Quaaout Lodge is planning for the future by incorporating trends and developments into their offerings. This includes the following:
Offering gluten-free meals, vegan options, detox foods, and accommodations of other dietary restrictions
Expanding the wellness and outdoor aspects to focus on relaxation, yoga, massages, hiking, and being connected to nature.
Adding activities that include paddle boards, personal water crafts, and regular exercise classes during the week
Customizing options for weddings, such as craft beer or local wines
Expanding art offerings to include beading or pine needle basket workshops
Accommodating visitors wanting to get away from technology into quiet surroundings
Offering locals new experiences, such as trying archery
Addressing the need for corporate retreats that include unique activities
Possibly expanding the golf course
While already being a focus, the lodge has plans to expand the culture department and its activities, including meetings with Elders, improved consultation with the local community, growing the Indigenous culture aspect, and contracting members of the community.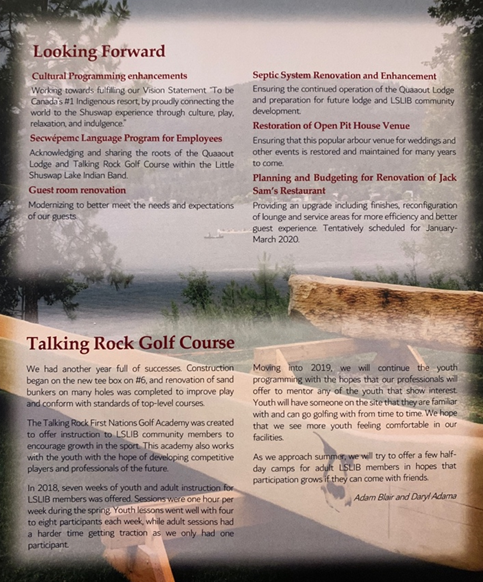 A continuous challenge is staffing, even though the lodge has many long-time employees (e.g., a night janitor has been there since the lodge opened!). With limited staff accommodation available, it has been difficult to find employees within driving distance, since the lodge is a 30- to 45-minute drive from Salmon Arm and a 45- to 60-minute drive from Kamloops. Students are temporarily employed during the summer, often as a stepping stone for those beginning tourism careers. Efforts have been made to establish an employee share program, such as sharing housekeepers with the Mustang Powder heliskiing operation or with hotels at Sun Peaks. Shuttle options are also being discussed.